You all must have enjoyed your solo life experiences laying on the bed and twirling your fingers on the sensitive surfaces,rolling up your covers.Obviously one such source of prime entertainment without whom our life would have been like naked, or feel as though we don't have anything with us.
I personally do not think that life can be sustained without Cell Phones. And the most creative and attractive part of these gadgets are their UI and GI which with the tinge of Apps can make a 5 inch slim box cost more than 40k.
A normal person can't do much for UI or GI but managing the size of app memory usage and its quality is as important as protecting your box from scratches.
Presenting you the must-have apps and their alternatives because well everybody has a different taste. I'm enlisting apps in the order of my preference.Lets start with waking up in the morning and peeking in the mobile rather than the hot neighbor's balcony.
1. Twilight
Do you face trouble falling asleep after using android device at night ?
Twilight can be the solution for your worries.
Researchers have determined that any bright lights at night can disrupt the sleep hormone melatonin and that blue light is the most harmful.
Worse, disruption of melatonin can contribute to obesity and cardiovascular disease as well. By making a small change to reduce the amount of bright white and blue light that goes into your eyes before bed, you can improve your health and overall quality of life.
2. To Do List
Start getting more done in less time
After waking up,Your first Task must be to plan the tasks you want to accomplish or things you want to complete. To do list offers more useful features than any other to do service. So you can do more to customize the experience, organize your tasks and projects, and optimize your productivity,Manage complexity by breaking big projects into small,Share projects delegate tasks, Real time data synchronization etc.
After planning the day you can proceed towards exploring the world i.e News and Current affairs.As we are living in a fast paced competitive world, Some people don't have time to read the complete passages written on the newspapers,they can use
3. In shorts
News in 60 words
Inshorts is a news app that selects latest and best news from multiple national and international sources and summaries them to present in a short and crisp 60 words or less format, personalized for you, in both, English or Hindi.
All summarized stories contain only headlines and facts, no opinions, to help you stay informed of the current affairs. Whether it's the latest government policies or shakeups in Bollywood, they get them covered and delivered super fast!
After reaching the work-space the most important file management and encryption apps are:
4. RAR
RARLAB's RAR is an all-in-one, original, free, simple, easy and quick compression program, archiver, assistant, extractor, manager and even a basic file explorer.
RAR can create RAR and ZIP and unpack RAR, ZIP, TAR, GZ, BZ2, XZ, 7z, ISO, ARJ archives. List of functions include repair command for damaged ZIP and RAR files, benchmark function compatible with RARLAB's WinRAR benchmark, recovery record, usual and recovery volumes, encryption, solid archives, utilizing multiple CPU cores to compress data.
This app is very useful for students especially at the time of exams in extracting and arranging notes and papers in different file formats.
4. Google Drive
Get access to files anywhere through secure cloud storage and file backup for your photos, videos, files and more with Google Drive.
Google Drive is a safe place for all your files and puts them within reach from any smartphone, tablet, or computer. Files in Drive – like your videos, photos, and documents – are backed up safely so you can't lose them. Once there, you can easily invite others to view, edit, or leave comments on any of your files or folders.
6. SHAREit
Now sharing has become so much easier
SHAREit is a free application that lets you send your content at lightning speed between devices including: photos, videos, music, documents, and folders. Transfer gigabytes of files from PC to PC in minutes, without cables, USB drives or network charges. Want to send all of your photos and videos from your phone or tablet to your PC or your PC to your phone or tablet? It's easy and fast with SHAREit.
Wireless devices with SHAREit can automatically find each other when in range. Transfer HUGE files and videos in seconds, up to 40 x faster than Bluetooth. SHAREit allows file sharing with added security and privacy, files are saved directly on your devices, not in the cloud. Transfer your files between all Windows, Android, iPhone & iPad devices.
Then comes the basic need apps like messaging,recharging,photo editing and time passing. Google is constantly experimenting with new features and UI changes for its apps.
7. Paytm
#PaytmKaro for the fastest online recharge, bill & utility payment and online shopping experience. Quick, easy and secure, Paytm is trusted by 1.3+ crore customers. Use the Paytm App for mobile recharge, DTH recharge, data card recharge and Mumbai & Delhi (DMRC) Metro Card recharge.
With the Paytm App, online bill payments are rewarding. It's quick to pay your postpaid mobile or make a landline bill payment. Skip long queues & pay your electricity bill, water & gas bills online.
Online travel booking is simplified with the Paytm App. Book hotels, flight tickets, bus tickets. Also pay school or college fee along with your insurance premium in a few steps. Use the Paytm Wallet to send or receive money, pay for services such as cabs, auto-rickshaw fares, dine-ins, and petrol pumps and even at your local kirana store. Enjoy online shopping across 1,000+ categories.
7. Mx player
The Best Way To Enjoy Your Movies
MX Video player is immensely famous in Android devices and it is making its way to IOS very fast. It is easily available on iTunes and can be downloaded for free. The iOS version of MX player is super cool. It has multiple in-app themes that are all very attractive.
Mx player is the best media player for any of your device. Having a video player with excellent features and video quality for your device, whether it is a PC, a tablet or a smartphone has become a must these days. We all like to watch all the videos in high definition quality and to experience that, a good video player which supports all kinds of video formats is much needed.
8. Lumosity/Fit Brains trainer
If daily brain training is a digital thing, hit them (gently) with a rolled-up newspaper that then opens to the crosswords page.
The veteran of the bunch, and the service that set many of the features that are now familiar from its rivals. Here, a selection of mini-games are mixed and matched into a daily programme, with the obligatory stat-tracking to show your improvement over time.
9. Study Helper
How to get rid of distraction from phone while you study !
As GPA being the criteria for many things in any college, the way we prepare for exams is one of the areas we need to improve.After Downloading , Activate it as Administrator Access.Now enter your Goal, Name it. Go to settings And enable apps important to you and that don't disturb you.
Now whenever you start Studying, open this study helper app and start it.Now you can't Access any WiFi ,3G etc . It creates a VPN to block Internet.Only the apps you allowed can be opened ,see the apps below..
And if you want even Hard mode, then Tap on Upper right corner "Lock button" enter your study time , for example you want to study 2 hours without distraction Enter 2 hr. In Hard mode, you can't open any app ,on Internet until the study timer stops
10. Truecaller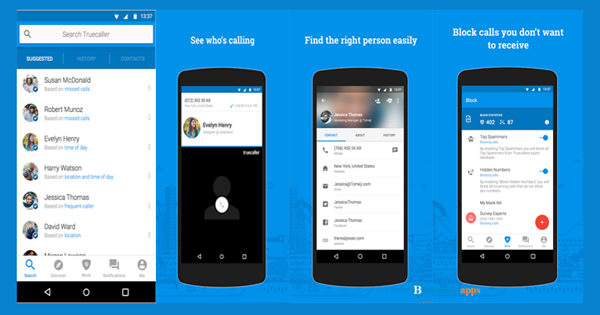 An app which is capable of finding even the most mysterious strange calls and telling you their name,Place and Sim operator just the moment the call arrives.
Truecaller has won over a legion of fans and dedicated users. It's powerful, versatile, and best of all, it's free. Thanks to its connection with Google platform that it can easily and fastly search the caller. It appears that this familiar app still has a few tricks up its sleeve.
It is very helpful especially for a junior or fresher in a college who is highly susceptible to get a phone call from some senior to get some work done.
Other than these there are apps like Gmail, Google Now, Facebook, Alarm, Dictionary and many more which come pre-installed in the android phones. So, I haven't mentioned them. Basically apps have become a part of your busy schedule not as a partner who puts an extra load on you but as a friend who can help you improve the way you do things.